In conversation with

Laura Medcalf
Laura Medcalf is a visual artist based between Budapest and London. Her artworks layer stories and textures, as she forages natural materials before immortalising them as beautiful blue cyanotype prints. Now more than ever we need to harmonise with nature. Laura's practice does exactly this, as she collaborates with the earth and its elements.

We had a catch up and spoke about her recent virtual exhibition - DIPPED IN THE SEA. Laura begins by explaining her processes and inspirations, and showing me her enviable book collection.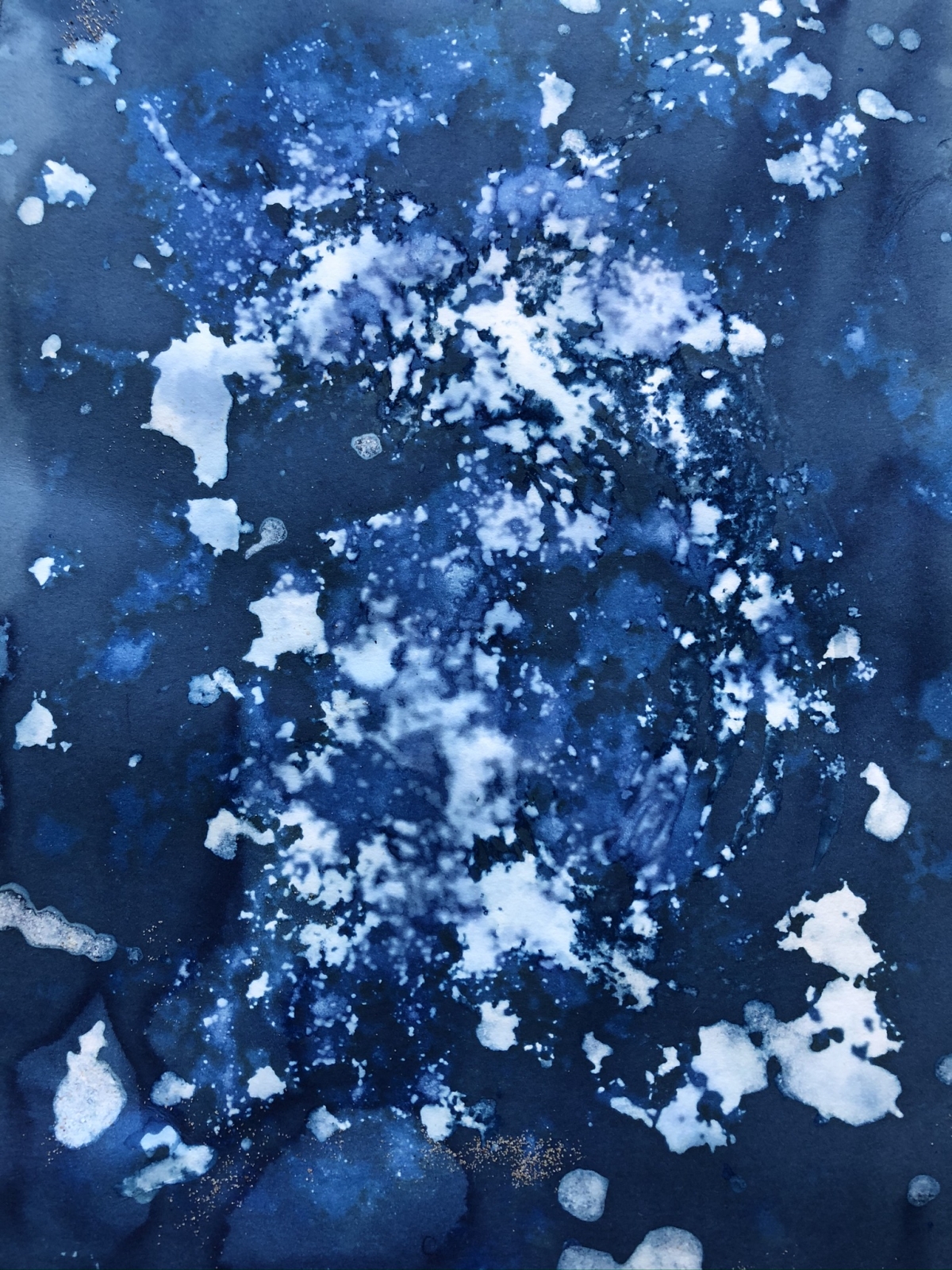 Midnight Sky (2019)



Laura: I get my inspiration from everywhere I go. This ongoing journey started during my university years [in Bournemouth] where I went on walks along the coastline and gathered research about the history of Dorset, and migrated plants.

I feel like this is such an overlooked topic and we take it for granted. In the UK in general, everything is so diverse and treasurable. This is the foundation of my inspiration, constantly researching natural processes.

In terms of artists, my huge inspirations are Richard Long and Herman De Vries. De Vries I actually discovered at the Venice Biennale, he was representing the Dutch Pavilion using artefacts from nature. He said it's beautiful to see that in nature one leaf may look like another but it never repeats itself, there is always a slight difference...that really resonates with me.

Diversity and the element of chance is what I see in my work, I can never repeat or reproduce the same print. There's always a difference, whether that be it in the background or during the exposure or how the paper reacts with the sea water.






Photograph by Cece Di Paolo



Cyddie: How important is nature is to your process?

In my practice I use organic matter such as plants, sand, snow, earth, seawater, wind and the sunlight. This process all collaborates and creates a print through my human interaction.

I have this fascination with the colour blue, and it is also the natural reaction from my process. Firstly the prints are brown when it's dried and meets the sun, and it turns blue when it meets the water. Again, it's linking to the earth and its elements. The sun turns it this golden brown, and the water blue… Blue is the colour of infinity. The colour of the horizon, the colour of the sky, in the colour spectrum its the first we see. We are drawn to blue and drawn to it on a daily basis.
One book I use a lot is called The Secret Lives of Colour by Kassia St Clair. It tells the history of all these tones and how they've been discovered… Egyptian blue, for example, was hoped to dispel evil and bring prosperity. I think this links to the kind of secret of my work, and it's long history. There's a mystery to the work itself, and blue I think is a mysterious colour, but it gives depth.

Another book I've read a lot is Artful Ecologies. It's full of discussion on intersubjective aesthetic and ephemeral compositions through art and nature.

Your work is capturing the ephemeral composition too.

Yes! In my work I am capturing the ephemeral, making it permanent through the interaction of the human. Through my hands. My practice evolves through capturing the transience in nature. I guess my work also reflects the existence of fragility, and the beauty of nature. Gathering and composing and this sense of chance.

To me, your work is about returning to the earth. Your hunting and gathering of those materials is as much a part of the work as the final print.

Exactly. The journey is important in the composition of the final product. I don't just paint from imagination.






Left to right: The Path to Follow (2018), The Velvet Snow (2018), Transient Moments (2018)



What's your favourite reaction ever?

One of the reactions was with snow. I don't paint with a brush. I use my hands and use frottage, which is a way to print the different textures of the surroundings. I painted, printed and frottaged with snow and it reacted to become a velvet print. In real life it looks completely 3D and I've never captured it again. The texture and the reaction of snow melting in the sun and creating this velvet pattern was so fascinating to me.


Another interesting reaction during the performance of the pieces happens when I place my prints into the sea. I sometimes experience this golden reaction, where it looks like the paper is copper. It happens rarely and it fades away as part of the reaction.

How do you decide which works belong together? Is it process based or location based or something else entirely?

DIPPED IN THE SEA was a gathered exhibition, a collection of loads of journeys.

Every time I make a body of work it takes a day to create, around 9 hours to expose and finish and dry. I can simultaneously print and can spot that the works have been done on the same day. There's that element of recurrence in composition and style.

I think my work is very location based but it's not guided by location, it's guided by the chance of what I experience. It's the same process but I can always create something new with it.






Photograph by Cece Di Paolo



Have you turned to your practice more or less over lockdowns?

Lockdown helped me pause a bit, to really carry on with my practice. Before lockdown the plan was to curate and showcase my works in a physical space in London.

I generally make my body of work during the summertime when the sunlight is the most intense. Summer of 2019 I made two large bodies of work after returning to Bournemouth, which I really wanted to show in London. I went back through all my gatherings and writings and kind of reflected on where I could develop.

Through lockdown I invested a lot of time in building this online exhibition, to make the viewer feel as though they are in situ, at a gallery opening, even though it's through a screen. It included months of planning, curating, understanding green screens, VFX, coding, 3D design, sound system testing, special effects, camera trials and so much more! It was a lot of work, which took a long time to develop into a LIVE opening via YouTube.

I did make a new body of work which no one has seen yet that I'm hoping to show in 2021, whether that's online or physically. I've developed the same process further and now things are growing on the print. Nature is overtaking me by growing over the paper.




I really enjoyed your exhibition - even though you were addressing all the viewers, it felt really personal too. What were the major challenges in creating this virtual exhibition?

Coming up with the concept was one thing… I thought my physical show in May [2020] would still go ahead at the start of the year. In April it became apparent that we couldn't return to the physical spaces. I started this project by researching different virtual viewing methods, at the same time as art galleries and auction houses.

The most common was the 360° view of a room. Kind of like Google street view. The other was like going on a page and just scrolling through the works. Art is not just curating a sort of online shopping basket, it's something we need to experience. Every weekend was invested in creating my virtual environment up until the launch of this permanent show which is still online.

I also thought of the idea that I should make the exhibition like a computer game. I wanted viewers to potentially be able to walk (independently) through the virtual space and my voice would follow. That idea did not go to plan! Instead I took the viewers on a journey since each print has its own story and research linked to it which is personal and treasurable.

Like a little audio guide in your ear.

Exactly. We spent weeks on this space. I re-curated the space around 6 times. I wanted it to be clean, like a white cube space with central lighting. Each work had its own lighting system which had to be added and designed individually in the software as the central lighting didn't give enough depth or shadow.

I think what I learnt most from this process is about overcoming those difficulties and challenges and always seeing the light at the end of the tunnel.