In conversation with

Daisy Jones
Daisy Jones is a multi-media artist who works primarily with photography, film and text. Currently, her work is made in response to the representation of race and gender within contemporary culture. She shared with us a mind map alongside a collection of GIFs, as part of her new, ongoing body of work - a project about black people winning awards in the motion picture industry.



Cyddie: Is this collection of imagery a kind of mood board for new work?
Daisy: I think that the project has been a work in progress since the start of the first lockdown. Initially I thought the GIFs were the work, and the mind map was meant for the project, but then I looked at it and thought 'I actually like this as a piece in itself.'




I feel like the project has become more about the process, I guess. I don't really have an end goal for it. More and more what seems to be happening is that I'm creating an archive, collecting a lot of stuff. Making GIFs, collecting videos, speeches I like and lists of actors. At the moment I'm just collating to see what I'll end up doing with it.

Was the GIF of Viola Davis her Emmy win?

Yeah. She was the first black woman to win an Emmy for a lead in a TV series. That one and the Moonlight one [Best Picture Oscar] were the two things that made me want to make work from it, because of the reactions. Not only of the people receiving the award, but of all the black people in the room.




Viola wins


With the Viola Davis win, Taraji P Henson was another actress nominated and she was still so thrilled and her reaction was so moving, because of the connotation of it, she didn't care that she didn't win. It gets me.



I rewatched the Moonlight Oscar win when I saw your GIF.

It's so good. Even Barry Jenkins' response - "even in my dreams this couldn't have been true" - adds to the dismay of it all. Everyone was looking around like "is this happening?"

Would you install this collection as a moving image work?

I tried making videos before of it… it felt like making a remix that's not as good as the original. There's no point making a film out of it if it's not going to give something new.


I started to imagine it as part archive, part exhibition. The more I've been collating, I've been thinking about making a digital archive of it. Having all of these clips and reframing it a bit. I made lists as well of all of the black actors, say, that have ever been nominated for best leading man, and had highlighted the ones that won.


I was thinking about just displaying that as lists of stats on a website. Kind of like a wiki I guess. An artsy looking wiki for black achievement in the film and TV industry.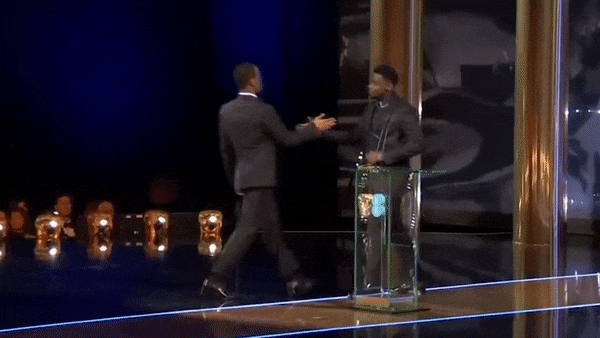 Safe bro


In the top corner of your mind map it says 'collective joy'. The sanitation strike is not an immediately joyous image, is it more to do with the joy of the collective?

The images are all symbols of collectivity. The 'I Am a Man' image is one I always come back to. It's such a symbolic image. Now when you see strikes and stuff, there's a difference in all the pictures, yet the collectivity is still there. To see that many people with the same sign, I think is quite iconic and I don't know if it's ever been done apart from then.

Memphis sanitation strike, 1968

The collective joy I guess refers only to… I was trying to figure out I guess from showing it to people why I was drawn to this as a subject matter.
It linked back to the feelings of being seen as a monolithic group, and that being reclaimed in a way. If you're always seen as the same, all these black people seen to be interchangeable, you can flip it and make it so that when you win, I also win. Because we are one.


It's like this forced collectivity that has more been imposed than a choice, but you can see it as something joyous now.
Is the I AM A MEME work appropriating the sign from the strike?

It was an artwork I looked at when I was writing my dissertation - How Can You Love Me and Hate Me at the Same Time? by Nathaniel Donnett. It's about the commodification of blackness on the internet, and how images of black people are used as memes, very off the cuff. There's a lot to be said about whether that's a good thing or a bad thing. 'I am a meme' is using the imagery from the strike but is reframed in that way.
You directed Thanks for Coming, a short film that looks at the mistreatment of the Windrush generation. When did you decide this was something you wanted to highlight in your work?

I had the idea so long for the video before I did anything about it. I was following it on the news without being too active, so I was already thinking about the novelty of the situation.


A group of people being invited to a country and spending their lives there, to be told 'that invitation expired,' which is where the name [Thanks for Coming] comes from.


Still from Thanks for Coming (2020)


I read where you spoke of people being given pamphlets advising them to fake accents after deportation.


The pamphlet informed the choice of making the film kind of absurd, and playing on the absurdity of the situation.

Was the set like appearance intentional?


I wanted it to be like a fake theatre set, or a stage show almost. I was playing around with the beach set idea, which is quite key in the visuals of it, and how I see the project as being.


The idea was to create a visual landscape that was informed by ignorance surrounding a certain place. It was making a beach somewhere that you've never been to and having to refer only to stereotypes. It's a stock photo, playing on British ignorance and exotic tropes. I'm making a world out of that, based on the ignorant things that were being said.

Have you turned more or less to your practice over lockdown?

I think I have gone back to how I used to make work or think about work when we were in uni. Before lockdown I was making work or having ideas responding to open calls or specifically geared towards certain funding applications, with more of a fixed outcome.

Now it's creating a body of work, which is something I haven't done in a while in the same way. It's nice to just collect things and not really know where it's going, and it's a good way of making work as well as doing projects and actively making work. I've been motivated but not necessarily with a fixed goal.



Hattie


What artists do you think should be on everyone's radar right now? Or are there any that have inspired you recently?

I feel like during lockdown I've watched films. Just always all of Spike Lee's films. Those should be on everyone's radar, at all times. I've been watching How to Get Away with Murder. That's important because Viola Davis is the leading woman.

Also I've just seen the first episode of Steve McQueen's new series Small Axe and it's amazing! I'd recommend everyone watch it, because it shows London in the time of Enoch Powell but centres life for British Caribbean people and the discrimination that they faced.



John Boyega in Steve McQueen's BBC Drama, Small Axe
(BBC/Turbine Studios)

I always go back to Carrie Mae Weems. And Martine Syms, I don't know if she should necessarily be on everyone's radar. I kind of hate her, she's had every good idea that exists as far as I'm concerned. Every time I have a project idea, even for this project, I need to make it not like Syms' work. I'm trying not to look at her work cos I don't want to steal it.

She stole yours.

She stole all my ideas, from my brain, all the way from LA. It's really rude.



Visit Daisy's website

here